Party Hosts: Angie & Beau Beau(7pm CST, 6pm MST, 5pm PST, or use the World Clock Time Converter)

How: This will be a Live Chat Party! Instrukshuns will be here just before the party starts at 8PM EST.


Party Hosts: Angie & Beau Beau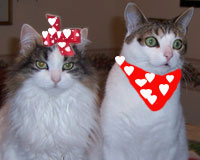 Don't furget:
All cats please sign in when yoo come to the party
so we can keep a good headcount for our donation cawse. In light of this being Robyn Appreciation Day, we has decided we will donate .50 cents for each cat who signs in
(not to exceed $100)
to 1/2 to Robyn's fund (see the linkies below fur more information) and the other half to the Meriden, CT Humane Society (where we were adopted from).
Robyn is the very nice lady bean from the
House of the (Mostly) Black Cats
who does so much for the cat blogosphere. She's been having some troubles lately and feeling furry sad, so us poodins wanted to try and cheer her up by declaring today to be Robyn Appreciation Day! (post taken from
Fluffy Feline Friends)
Please visit
Grr, Midnight and Cocoa's blog
and
Missy and KC's blog
to find out about Robyn and all the good things that Hot(M)BC-Mom has done fur us all.
Labels: poodin friends
(From Fluffy Feline Friends)